CAPAW is hosting the Compassion Circle, a virtual peer mentoring group for Asian American, Native Hawaiian, and Pacific Islander (AANHPI) women. This community started in 2021 with support from NAAAP-Atlanta's Chopstix for Charity.
We currently have a national circle and recently added an Atlanta circle. We want to grow in other cities!
The purpose is to create a community of AANHPI women who are interested in:
Fostering a safe environment to discuss and share issues and challenges faced by anyone who identifies themselves as AANHPI women.
Sharing common interests to determine programming for 2022 together.
Creating a network of AANHPI women to support one another.
Encourage learning about others and embrace personal development opportunities.
Discussion topics are determined by the participants, once interests are shared within the group. This is an opportunity for the participants to shape the program.
Frequency of Meetings: Once a month plus one coffee chat (informal):
Dates:
Sep 26
Oct 31
Nov 28
Dec 26
Jan 30
Feb 27
March 26
Apr 30
May 28
Jun 25
Jul 30
Aug 27
Time(ET):
7:00 – 8:15 pm
Cost to Join:
None
THE NATIONAL LEVEL:
If you're interested in learning more about the Compassion Circle and would like to join, please contact Sue Ann Hong  sahong@capaw.org.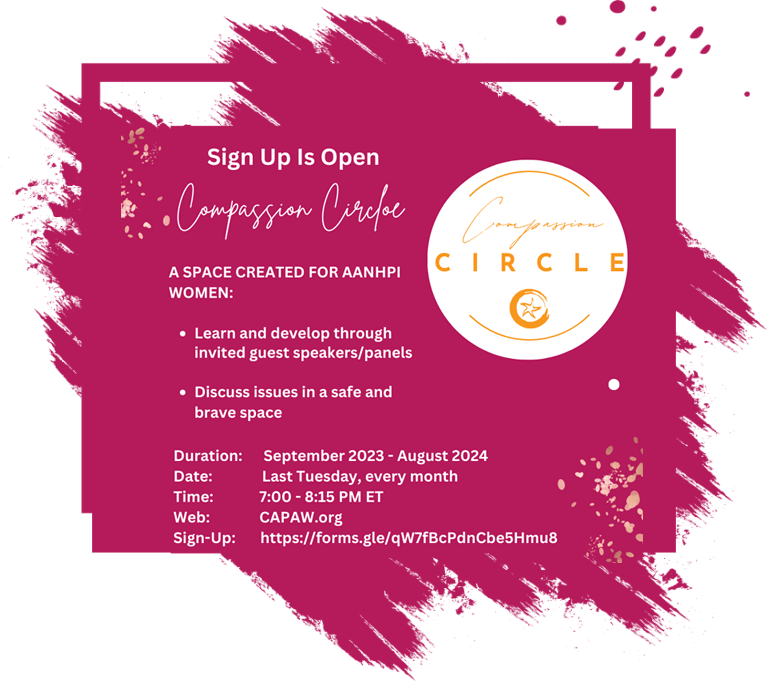 FOLLOW CAPAW ON SOCIAL MEDIA, AND ENGAGE IN MEANINGFUL DIALOGUE.