June 9, 2022
Apawomen
Digital Equity for Native Hawaiians
The Covid-19 pandemic impacted nearly every aspect of life as we knew it. Two years later, we are only just returning to some sense of normalcy, however, returning to normal is not the goal for everyone. For some, this life-altering experience has highlighted the many areas where inequality continues to persist. 

For Native Hawaiians, the Covid-19 pandemic brought national attention to the lack of broadband infrastructure and access in the state. As students were directed to resume their education virtually, employees instructed to work from home, and doctors referring patients to their telehealth services, it became nearly impossible to live a productive life without an internet capable device.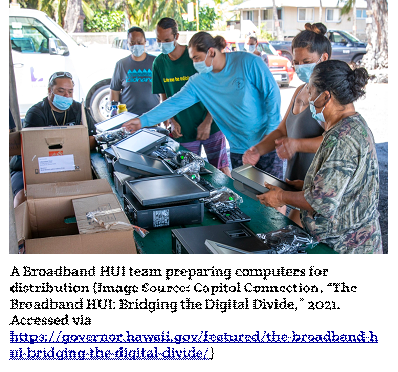 Prior to the pandemic, the 2019 American Community Survey revealed that 8.7% of Native Hawaiians did not have an internet subscription compared to 4.6% of the state's overall population. A lack of broadband infrastructure, internet capable devices, affordable services, and technological knowledge specifically in rural and low income areas disproportionately impacts Native Hawaiians' chances for upward mobility. 

So, now, as the rest of the world excitedly attempts to return to life as it was before the pandemic, Native Hawaiians demand more. Beginning in the fall of 2020, Hawaii's state government released its strategy for building a more equitable broadband infrastructure. A group known as the Broadband Hui then released its first Digital Equity Declaration. Most recently in July of 2021, Governor Ige created the Hawaii Broadband & Digital Equity Office within the Department of Economic Development and Tourism. The $160 million set aside in President Biden's infrastructure bill dedicated to improving the state's broadband framework will hopefully turn the state's strategic plans into reality. Although the Covid-19 pandemic has been a period of pain and suffering especially for those who were already faced with the many challenges of inequality, it has also brought about a glimmer of hope for those who demand equity for Native Hawaiians in the form of access to technology.

This topic is now more important than ever. Although it has been a longstanding issue, the pandemic has prompted Hawaii's state government to develop a plan for improving its broadband infrastructure. The federal funding now underway completes the how piece to this puzzle. The why piece lies in equality for Native Hawaiians. Access to the internet will allow Native Hawaiians various opportunities for upward mobility such as increased educational and economic opportunities as well as the ability to virtually participate in federal and state governments. This issue is not as simple as giving Native Hawaiians access to the internet and internet capable devices but the importance of the resources that will become available to them. Progress towards digital equity will hopefully bring about equity in other areas for Native Hawaiians.

About the Author: Olivia Beach is a second-generation Vietnamese American currently residing in Allen, Texas. She is a rising junior at Villanova University majoring in Political Science and minoring in Peace and Justice. After graduation she is looking to attend law school and find a career in public policy.